The 12 Days of Welty Christmas
On the 1st day of Christmas Welty gave to me, a Topping Out Ceremony.
Welty celebrated this milestone at Woodridge school with the students, Woodridge leaders and the Welty construction team. The Junior Core students signed a steel beam that was raised into place, along with a Christmas tree for the holiday season.  
This new facility will combine two existing elementary schools into one. Approximately 900 students, grades K-5, will learn in the new 132,858 SF, 2-story facility that includes a main gym, auxiliary gym, library, cafeteria, and multiple classrooms with advanced capabilities.
---
On the 2nd day of Christmas Welty gave to me, 2 checks to make children happy while they get well at Akron Children's.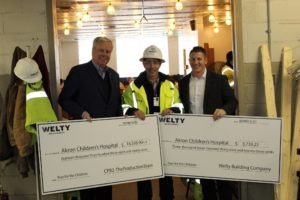 On December 22, Welty presented two checks totaling over $22,000 to Bill Considine in support of buying gifts for the children of Akron Children's Hospital. The money was raised in just two months from Welty project scrap waste along with cash donations from employees.
The construction team at Akron Children's Hospital recycled over $18,000 worth of assorted scrap metals from the Considine Professional Building addition. This was achieved through our staff working at the project along with our subcontractors; JW Didado Electric, Forest City Consulting, United Glass and Panel Systems, Gorman-Lavelle Corp, and Th Martin. The original goal was to raise $750 by December 15.