After cleanup and demolition, development group is ready to start Cleveland Athletic Club conversion –  highlight in Freshwater Cleveland on December 7, 2017:
When Joe DiGeronimo first walked into the former Cleveland Athletic Club on Labor Day weekend 2016, he was shocked by the state of the historic property.  The club was a shell of its once-thriving self, ravaged by water damage and years of severe neglect.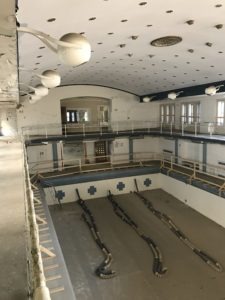 DiGeronoimo, vice president of Precision Environmental, and a group of development partners that includes Don Taylor and Welty Building Company, Ned Weingart, the Bobeck Family, Great Lakes Financial and New-York based Whitestone Realty Capital has been working on acquiring the club at 1118 Euclid Ave. since about 2011.
The entire article and photo gallery can be found here.