Building Success: At Last, Women Are Getting Noticed For Making An Impact In The Construction Industry
Building a name for ourselves in this fast-paced industry, we wouldn't be where we are today without all the hard work and dedication of our leading ladies.  In honor of Women in Construction Week, March 5 – 11, we wanted to thank the women in our industry for the impact that they make. 
Along with WIC, International Women's Day is two days away (March 8, 2018), making it the perfect time to consider the increasingly diverse range of roles for women in the construction industry.  It's no secret, our industry is dominated by men, but don't be fooled, women are building very successful careers for themselves. To let a secret slip, the industry is just getting started in terms of its innovative potential, especially for women. 
Research by management consultants McKinsey showed that diversity is a key driver of innovation, and there's a high correlation between diversity and success. McKinsey's 2015 report "Why Diversity Matters" shows that gender diverse companies are 14% more likely to perform better than those that are not gender diverse.
As a leader in innovation, Welty is focused on the future. To continue our success, our future initiatives are designed to expand diversity and equally empower all our employees.  Women in Construction Week gives us the chance to show how we do this for our female folks.
Expanding technology has made it more common to utilize women on a construction site. Technological tools like BIM, Lean, and modern methods of construction are creating a greater diversity of jobs and a higher demand for women to fill these roles.   As we grow at Welty, more and more women join our ranks. Each year we are putting more boots on the ground sized with  'W' on the tag. That 'W' stands for the women of Welty who advance our industry. Currently, in the United States, 9.2 percent of all construction workers are women*. That's the highest percentage EVER.
Women in our industry are also known to receive equal pay.  Construction in the U.S. is one of the top fields where women are equally paid compared to their male counterparts. On average, women in the U.S. make 80 cents for every dollar men make. In construction, it's 97 cents for every dollar.
With advancing technology and desirable pay, now is the perfect time to join construction, whether you are a man or a woman. The industry is in high demand of skilled workers, so if you have transferable experience and are good at problem-solving, retaining information and multi-tasking, construction could be a great place for you.
To mark Women in Construction Week, we interviewed several of our female leaders who are helping shape the future of Welty. These women — and many others — are taking active steps to help propel the industry forward. Read on to see how these women are leading the charge on improving diversity within their teams, companies and the industry, and how their actions are paving the way for a new era of construction.
The National Association of Women in Construction (NAWIC) will celebrate Women in Construction (WIC) Week March 5-11, 2018. WIC Week is the most important date on the NAWIC calendar. This week helps NAWIC advance its mission to enhance the success of women in the construction industry.
---
Marlene
Project Assistant
1. WHY DO YOU LOVE WHAT YOU DO?
I usually work at a project site office and am fortunate to be involved in the construction process from the scope review with the successful subcontractors to the project closeout.
I set up the construction document processes with our Welty Team and work closely with the Owner, Design Team and Subcontractors to assure that they are receiving their project information in an accurate and timely manner.  I become a "Go to" Person and enjoy interacting with the entire Construction Team.  It's wonderful to drive by a past Welty building and feel like I was a part of the construction process and reflect on fond memories of the people who were involved in the Project.
2.WHAT DO YOU HOPE WILL BE YOUR LEGACY IN THE CONSTRUCTION INDUSTRY?
I hope that people will remember me as someone who was a positive reflection of Welty Building Company.  I want to be known as someone who was knowledgeable, friendly and willing to help in any way I could.
3. WHAT IS THE PROUDEST MOMENT OF YOUR CAREER?
I am now in my 34th year at Welty and in celebration of my 30th Anniversary with the company, the Marketing Dept. interviewed Jerry Welty and 5 of the principal representatives of the companies we worked for on projects which I had been fortunate to be assigned.  The interviews were taped and compiled on a CD that was played at the Company Christmas Party.  As a person who does not like "center stage", it was wonderful to hear flattering things about the job I did for them and their congratulations for 30 years at Welty.
4. WHAT IS YOUR FONDEST INDUSTRY MEMORY?
When we were working on the National Inventors Hall of Fame Project in 1995, we invited President Bill Clinton to visit our job site when he was in Akron for a political event.  Much to our surprise, he accepted the invitation and we spent the week before his arrival preparing for his visit.   We worked with the Secret Service and the White House Advance Team and learned about all the work that goes into securing an area where the President is scheduled to appear.  When the big moment came, and the President arrived, we welcomed him, shook his hand, gave him a Welty hard hat with his name on it and led him on a tour of the building.
---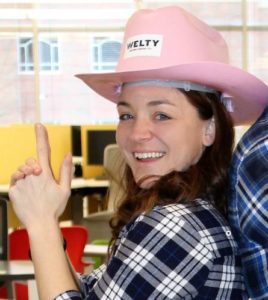 Meghan
Lean / Innovation Leader
1. WHY DID YOU CHOOSE TO PURSUE A CAREER IN THE CONSTRUCTION INDUSTRY?
I like building and creating.  I enjoy learning about company or leader passions, ideas, visions, and designs—how they want to create something better and impact others and help turn it into a reality.  Construction provides a "home" to facilitate the creation, execution, or service of those ideas and impacts every member of the community.  Whether the purpose of the building is to create a widget, provide a service, advance healthcare, or literally construct a home—construction impacts every industry and provides a means of service and a closer community.
2. WHY DO YOU LOVE WHAT YOU DO?
I love connecting people with purpose and passion.  Everyone has different strengths:  some are visionaries,  some set the direction or path to get to the goal,  some create and build, while others motivate and scout other avenues to stay on point.  Connecting these strengths not only helps get the ball down the field, it also helps people understand their purpose and capitalize their own powers.
3. WHAT INSPIRES YOU?
Curiosity tied with passion, humility, and grit.   There is so much to learn and being satisfied with the status quo is not enough.  Challenging the status quo with curiosity and humility allows barriers to be broken down while keeping the integrity of those who built the path before you.   There will always be excuses to why things can't happen, grit is the answer to why it can happen.
4. WHAT ARE THE THINGS YOU DEPEND ON OR THAT JUST MAKE LIFE EASIER?
Family, Friends, and Fun.  Without the support of your family and friends and a great laugh, life would suck.  Those rays of light help turn even the roughest days into a smile.

---
Chyan
Project Engineer – Cleveland Athletic Club

1.WHAT DO YOU HOPE WILL BE YOUR LEGACY IN THE CONSTRUCTION INDUSTRY?

I hope that my role as a woman in the construction industry will pave the way for women in this industry and the construction workforce for generations after me. I have worked with other women that have shared their struggles and successes with me and that has helped me to be where I am today. I think that sharing your experience and knowledge of the industry encourages others that might be hesitant to enter this type of industry.
2. WHAT DO YOU ENJOY MOST ABOUT YOUR CAREER?
I enjoy being in the construction industry because it is both challenging and rewarding. Every day on a project is different and it allows you to work with multiple types of people. I like the position that I have because I get to work in both an office environment and in the field. I enjoy working with the trades and seeing a building coming together.

---
Krista
Sr. Project Engineer – Energy & Infrastructure

1. WHY DID YOU CHOOSE TO PURSUE A CAREER IN THE CONSTRUCTION INDUSTRY?

My dad is a union plumber and I grew up helping him with projects around the house. When I was 17, I started working part time with his company and loved it. I declared a major in Construction Management soon after.
2. WHAT IS YOUR FONDEST INDUSTRY MEMORY?
When I was 10 I was allowed to go to a site for first time on a Father-Daughter work day. My Dad got me a special pink hard hat and showed me what his days looked like. To commemorate that memory he got me a new pink hard hat on my graduation day.
---
Erica
Diversity Coordinator
1. WHAT IS YOUR FONDEST INDUSTRY MEMORY?
Recently I took a cold call from a young man, from Columbus, that just received his MBE certification and was calling just to let me know about it. He described what his trade specialty was and to keep him in mind if we needed his particular services. I knew exactly where to place him. I immediately forwarded his information over to an estimator that took him on as a sub for the First Energy project. It was great timing and amazing to see the efforts we take to promote inclusion come to life!
2. WHAT ARE THE THINGS YOU DEPEND ON OR THAT JUST MAKE LIFE EASIER?
Yoga, Music, Prayer and Wine! Namaste ॐ
---
Patricia
Estimator
1. WHY DID YOU CHOOSE TO PURSUE A CAREER IN THE CONSTRUCTION INDUSTRY?
Construction is often the litmus test that signifies the health of cities and communities; a boom in construction means the community is brimming with opportunity. At the end of the project, the work accomplished gives those opportunities a home, whether the project is a 500,000 SF warehouse and distribution center for a Fortune 500 Company or a build out for a locally-owned "mom-and-pop" shop.
2. WHAT DO YOU HOPE WILL BE YOUR LEGACY IN THE CONSTRUCTION INDUSTRY?
My legacy is the  buildings that I've worked on.
---

Tia
General Manager of Facility Services
1. WHY DID YOU CHOOSE TO PURSUE A CAREER IN THE CONSTRUCTION INDUSTRY?
I had no choice, my father brainwashed me ☺.  I would work summers as soon as I could – through college on his sites. Those jobs grew into a love of the industry.
2. WHY DO YOU LOVE WHAT YOU DO?
Every day brings a new challenge that involves creative problem solving!
3. WHAT DO YOU HOPE WILL BE YOUR LEGACY IN THE CONSTRUCTION INDUSTRY?
When I started in construction there were NO women. I hope my legacy enables the belief in women that they don't have to be anyone but themselves to be successful.
4. WHAT PROBLEMS DO YOU ENJOY SOLVING?
The ones with the most hair ☺.
5. WHERE DO YOU COME UP WITH YOUR BEST IDEAS?
The shower – it's the only place where the phone can't get me and I actually get time to myself.
6. WHAT IS THE PROUDEST MOMENT OF YOUR CAREER?
I've been lucky and had many. My WHY is beauty and strength, when I am at our buildings and sites – overhearing strangers talk about how well they are running and look renews my sense of pride every time!
7. WHAT IS YOUR FONDEST INDUSTRY MEMORY?
Cleaning/ working construction sites in the summers with/ for my Dad. Also – that I always scared the foremen ☺.
8. HOW DO YOU GIVE BACK TO THE COMMUNITY?
Time, Treasure, Talent. I sit on various community boards, am fortunate to be able to give money to organizations I have passion for, and volunteer my time on committees and community work.
9. WHAT DO YOU ENJOY MOST ABOUT YOUR CAREER?
Having the opportunity to work in different sectors within the industry and meet new people that continue my individual growth.
10. WHAT ARE THE THINGS YOU DEPEND ON OR THAT JUST MAKE LIFE EASIER?
Baby Brezza (Like a Keurig for baby formula), Zillow (I study my hood), and Vogue!