by STAN BULLARD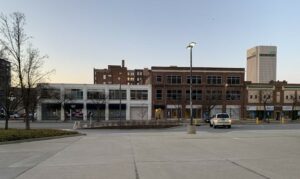 Partners in Innovation Landing, which will add about 50 units of housing near Cleveland State University in two buildings at 1835-1849 Prospect Ave. East, started renovations before closing on the properties because it wants to have them ready for the market in July.
Thomas Charek, president of Welty Development in Fairlawn, said the project will follow federal guidelines to win U.S. Historic Preservation Tax Credits, but the development team doesn't plan to seek Ohio State Historic Preservation Tax Credits.
"That's due to the timing," Charek said in a phone interview. The state awards the credits twice a year, which would make the summer 2022 opening hard to meet.
One reason the project can skip the much-sought state aid is due to the makeup of the Innovation Landing investor team, which includes Carmen Fiorilli, owner of Fiorilli Construction Inc. of Medina, and Scott Maloney, the architect who is president of K2M Design of Cleveland, which also includes K2M Engineering.
"I found the deal but was able to get together a cohesive team that can do the project quickly," Charek said, because Fiorilli is serving as the general contractor for the project and Maloney's K2M is designing it.
Although Donzell Taylor, CEO of Welty Building Co. of Fairlawn, is an investor in Welty Development, Charek said the development concern may use other contractors and subcontractors based on who best fits the project. In this case, Welty has a substantial backlog and some of the investors are putting their skills into the project, Charek said.
Innovation Landing already is committed to the project in a meaningful way.
Through Innovation Landing LLC, the partnership on Dec. 6 acquired for $2.7 million the two buildings that will form the project, according to Cuyahoga County property records.
The seller, an investment group called Terry L Poltorek Kenneth F. Lutke Partners Investment Properties KKC, acquired the two buildings in separate transactions since 1983. Charek declined to say how much it will take to add residences to the buildings, but it's likely to be at least three times as much as the group spent buying the properties. That would indicate a development cost in the $8 million range.
The Cuyahoga County Veterans Service Commission, which assists military veterans with social services, has offices on the first floor of the buildings and will remain there under a long-term lease.
"We're happy to have them as a long-term tenant," Charek said. He said Innovation Landing plans to seek a food-related use or coffee shop in about 2,500 square feet of retail space that is empty in the complex.
A mix of studio, one- and two-bedroom units, and a single three-bedroom unit, will go into the upper floors of the two-story and three-story buildings.
Innovation Landing joins multiple residential projects in the CSU area that serve students and, in some cases, downtown workers.
David "Joe" Kaufman, a partner in Brothers Printing, at 2000 Euclid Ave., and his brother Jay Kaufman helped to pioneer the residential district by adding more than 30 apartments to their printing building and an adjoining one. He said he is excited to see another largely vacant building complex get reoccupied.
"I'd be worried about being an island because it's across the street from Wolstein Center so it's sort of in an island," David Kaufman said, rather than facing the classrooms and associated buildings at CSU on the south side of Euclid. However, he added, "There are a lot of people in this world smarter than me."
Mark Lammon, executive director of Campus District, wrote in an email, "The Campus District community is excited about the development of 1835-1849 Prospect Avenue. This project will bring additional residents to our growing downtown neighborhood."
For his part, Charek said Innovation Landing is predicated on the idea that CSU expects to gain students, including more residential students, under its growth plans.
Charek said the smaller units will go for as little as $750 a month in order to try to attract students.
He noted some students commuting to CSU for law school or graduate business or other degrees may come from as far as Youngstown or Ashland and might find such a rental an attractive way to reduce travel time and car expenses, even if it's only for a few nights per week.