By: By Jill Sell 
Special To The Akron Beacon Journal/www.beaconjournal.com/Homes
---
Job opportunities in the building industry are varied and open to women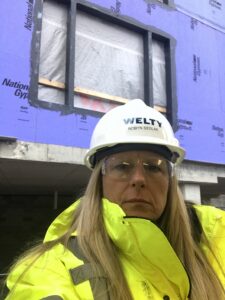 Years ago, Robyn Sedlak was working as a janitor at the college she was attending. A friend came into town and asked her to go out and shoot pool. During the course of the evening, Sedlak found herself playing against one pretty skilled guy. A more than decent player herself, Sedlak decided to throw the game, wanting to get back to her friend.
"The guy came over and said I threw the game. I said yes, but no one noticed. Then he said, 'Play me again for real and if you win, I will give you a job.' I beat him. He owned a carpentry company and called me two weeks later to give me a job," recalled Sedlak. "I started as a carpenter helper and shoveled a lot of gravel and looked for tools that didn't exist. But that's how I started in construction." Sedlak moved into management because it appealed to her and also because "daycare doesn't open at 5:30 in the morning." As a mother, Sedlak needed more options.
Today, Sedlak is a project manager for Welty Building Co., most recently overseeing the construction of a large office building in Independence. She handles all financial aspects of a job, awards most contracts and manages the owners, clients and field.
Some women would rather wear steel-toed boots instead of stiletto heels in their careers. But in the building industry, women can wear either kind of footwear, both, and everything in between, depending on their career focus.
"You don't need to swing a hammer or put a shovel in the ground to be in the construction industry," said Tom Charek, president of Welty Development, a national developer headquartered in Fairlawn, focusing on multi-family, corporate and real estate projects. "Our accounting department is female, our project manager for our new office building is female, the entire interior design team is female, our banker is a female."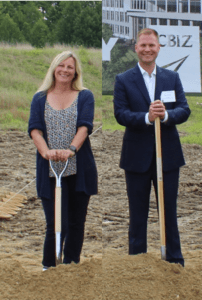 "We need all of those to build a building. We go out of our way to find female-owned businesses. We are looking for people in the field, but also the women in the high-paying jobs and those women-owned businesses that need to be supported and given a fair shake," he said.
Welty chose Cleveland-based, women-owned Vocon Partners as the architect for its 150,000- square-foot, six-story, Class A office building that broke ground in August and is expected to be completed in late 2022.
"We chose Vocon not just because they are women, but because they are a great architectural firm," said Charek. "There are 15 ways you can build a building, and each way has positives and negatives. You need different perspectives on what is needed, what is popular, and how to do things. That's the benefit of having women and diversity involved. It strengthens every project."
Welty also participates in the ACEAkron mentor program which provides scholarships and opportunities for students wishing to pursue careers in architecture, construction or engineering. Charek, also the lead for the new Spencer Court Apartments project in North Ridgeville, believes "there comes a point where you just decide or not" to support women in construction. He feels giving women opportunities is the right thing to do and that the contributions of women benefit not only companies but communities. And he also says his sister, an accomplished leader in the construction world, and his 8-year-old daughter would both give him a hard time if he didn't practice what he preaches.
(Spencer Court Apartments will consist of six buildings, each with eight units and is the first new apartment complex built in North Ridgeville since 2008. Palmieri Enterprises is the builder. The complex is expected to be completed in mid-2022.)
THE PAST AND THE FUTURE
World War II brought new opportunities to women who proved they could rivet, weld, pound, cut and wire as well as men. But making significant inroads in the residential and commercial building industries has been slow, especially in some hard hat trades and upper management.
But with current labor shortages in the United States, and what Charek calls "a huge glut of retirees emerging," that will most likely change.
In many ways, those in residential construction are leading the way to welcome and train more women in the building trades. The National Association of Home Builders (NAHB) has several initiatives that encourage women to explore these careers. The NAHB's National Housing Endowment has dedicated almost $5 million in grant opportunities to support academic programs in residential construction. In addition, local chapters are also chipping in to help vocational schools, colleges and employers train young people.
The NAHB's Professional Women in Building Council is also active in recruitment and support. The National Association of Women in Construction (NAWIC) reports 71 percent of those recently surveyed felt opportunities for women in construction were increasing. Also, 59 percent ranked employers in this industry favorably for equality.
Still, there are many rungs left on the ladder to climb. According to the NAWIC, the U.S. Bureau of Labor Statistics and other sources, women made up 13 percent of the construction industry in 2020 nationwide. In Ohio, that percentage was 12 percent. Also, women in construction make 97 cents for every dollar men in construction make, but that gap is less than it is in many professions.
The NAWIC Akron Chapter was chartered in 1966 and offers monthly meetings, scholarships, speakers, site tours and more.
The chapter, under the direction of President Jina Clay, has lent its expertise to non-profit community groups including the Salvation Army, Girls Scouts of the USA, and the Ronald McDonald House Charities of Northeast Ohio.
EDUCATION
Educational opportunities for women wishing to enter the building industry include a variety of trade apprenticeships, high school vocational programs, community college courses and advanced degrees.
Case Western Reserve University's School of Engineering, for example, offers undergraduate and graduate courses in civil engineering. Its department of research examines topics of interest to the building industry, including structural health
monitoring and behavior of soils. (No, building on quicksand would not be a good idea.) A student chapter of ASCE is also available for all civil and environmental engineering students. However, one of the quickest, free and most satisfying ways to strap on a tool belt is through Habitat for Humanity. Someone might not earn a certificate or college degree onsite, but can learn important carpentry, plumbing, painting, tiling, electrical, HVAC, landscaping or roofing skills.
Any woman who wants to learn how to build a house is invited to volunteer alongside construction professionals on a Habitat for Humanity house. No experience is necessary. Not only can a woman learn new skills she can use in her personal life or in a future career, she can help a family in need of housing. Rochelle Sibbio is the president and CEO of Habitat for Humanity of Summit County. The Habitat for Humanity Women Build Program began in 1991 and has been active across the country.
"The premise is to share with women that being on a build site helping to build a new home is something we all can do," said Sibbio. "It's about including women on construction sites, teaching them skills and bringing out their ability to be hands on and tactile."
Laurie Giurdanella is a construction site supervisor for the Akron chapter and has a background in commercial construction, including building schools and colleges. Sibbio calls Giurdanella "the best Ambassador for Women Build, helping women feel comfortable on our job sites, as well as talking at area schools to young women interested in construction."
MAKING A NAME FOR HERSELF
This region can be proud of a number of women who have made a name for themselves in the building industry. Helen Scott founded her real estate agency in 1978, and the company's Helen Scott Realty and Helen Scott Custom Builders are now operated by a second generation in Barberton.
Glenna Wilson is a co-partner of Charis Homes in North Canton, which built its first Energy Star certified custom home in 2006. Charis Homes, now part of Epcon Franchising, was awarded the 2021 Housing Innovation Award from the U.S. Department of Energy for its innovative Zero Energy Ready Homes. Sedlak's advice for women considering a career in the building industry? "Be smarter than anyone else in the room. I listen a lot. I don't open my mouth until I know I am right."
LEARN MORE
Case Western Reserve University School of Engineering
216-368-6247
www.engineering.case.edu
Habitat of Humanity of Summit County/Women Build – provides volunteer experience to learn skills
330-745-7734
habitat@hfhsummitcounty.org
National Association of Women in Construction (NAWIC) —national headquarters in Fort Worth, Texas
817-877-5551
nawic@nawic.org
NAWIC Akron Chapter –
akronnawic@gmail.com National Association of Home
Builders Professional Women in Building Council
202-266-8211
nahb.org
National Housing Endowment (scholarships and grants)
202-266-8069
www.nationalhousingendowment.org
Women Builders Council legislative advocacy & new business development
212-317-2400
www.wbcnyc.org
Women Construction Owners & Executives USA for "women involved in the boardroom side of construction projects"
202-276-0646
info@wcoeusa.org