---
June 23, 2022
Dome milestone: One now in place at center for performance on Hall of Fame Village campus
CANTON – The dome is in place for the center of performance, marking another milestone for the Hall of Fame Village project.
The performance center is to the west of the Constellation Center for Excellence and Tom Benson Hall of Fame Stadium. The building features 85,000 square feet that can provide exhibition space or athletic fields and courts.
Meanwhile, Hall of Fame Resort & Entertainment Co. — developer of the Hall of Fame Village powered by Johnson Controls — announced Thursday morning that Teri Flynn, a sports media executive, has been named to the company's board of directors.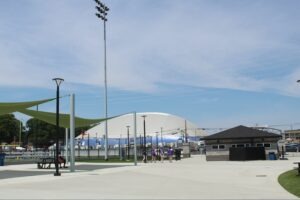 Second phase of Hall of Fame Village progressing
Earlier this year Hall of Fame Resort said it expected the center for performance would be ready in July. The company announced in March that it has partnered with the SportsDome in Jackson Township. Recreational activities at the SportsDome will  relocate to the Center for Performance.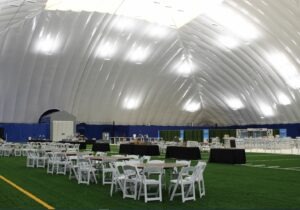 The building is among several structures that are part of the second phase of the Hall of Fame Village development.
The first phase of the campus that will wrap around the Pro Football Hall of Fame included construction of the stadium along with several youth athletic fields south of McKinley High School.
Already completed in the second phase is construction of the Constellation office building and renovation of the DoubleTree by Hilton hotel in downtown Canton.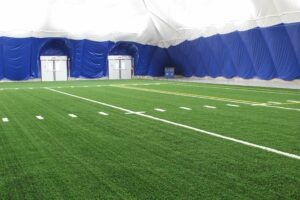 Work is progressing on the Fan Engagement Zone, a retail space north of the Pro Football Hall of Fame, and the Play-Action Plaza, which will feature a Ferris wheel and zipline. A Don Shula's restaurant, Helix eSports complex operated by Esports Entertainment Group, and a TopGolf Swing Suite affiliated with The Brew Kettle, a Northeast Ohio craft brewery, are part of the Fan Engagement Zone.
In the coming year construction is expected to begin on a 180-room Tapestry by Hilton hotel and a waterpark.