Akron Children' Hospital enhances campus with expanded Considine Professional Building

Article in Properties by: Mark Watt
In 2015, Akron Children's Hospital completed the first phase of a 20-year master plan with the opening of Kay Jewelers Pavilion, a $180 million, 368,750-square-foot facility that substantially upgraded its downtown Akron main campus with a new emergency department, neonatal intensive care unit, outpatient surgery center and high-risk labor/delivery center. This year sees Northeast Ohio's largest pediatric healthcare provider continuing an effort to meet growing demand with its latest completed building project, the newly expanded William H. Considine Professional Building.
The existing seven-story facility, constructed in 2004, has been reconfigured and modernized with and addition that nearly doubles available space from 250,000 to 480,000 square feet, enabling Akron Children's Hospital to consolidate outpatient programs and place them in once centralized, easy-to-navigate facility. Departments currently open or soon moving into the building include Adolescent Medicine, Behavioral Health, Dermatology, Gastroenterology, General Surgery, Genetics, the Locust Pediatric Care Group, Ophthalmology Rheumatology and Sports Medicine and Rehabilitation, plus and outpatient pharmacy, lab and the hospital's Neurodevelopmental Science Center.
"This building brings all of these high-demand services together under one roof to create a one-stop opportunity for families and children," Says Lisa Aurilio, Chief operating officer at Akron Children's Hospital.
Continuing a design approach first utilized at Kay Jewelers Pavilion, the entire facility is designed "through the eyes of a child," with vibrant color choices and furniture selections, wall-sized murals incorporating photos of area youngsters at play, artwork created by young area artists and whimsical exterior lights that change colors at night. The design focuses on even the smallest of details, notes Holly Pupino, senior corporate communications specialist. "When you're in the elevator, you'll even hear the voice of a children saying 'going up!' she says.
A need for growth
Akron Children's Hospital CEO Grace Wakulchik, MSN, notes that while the Considine Professional Building expansion was first envisioned nearly a decade ago as part of its overall campus master plan, the project actively began to says take shape in 2015.
"When we finished the Kay Jewelers Pavilion project, we knew we had to address our outpatient demands," Wakulchik says. "We were physically running out of space for our pediatric specialists to see patients. We've seen 10% growth in overall demand for out-patient pediatric services, year after year. Demand for gastrointestinal services has increased 63% and, over the past two years, our behavioral health practice has grown 21%."
Plus, many of the various pediatric practices were previously spread across a roughly six-block area, with disparate offices in the existing hospital, the outdated Locust Professional Building nearby and several other leased facilities. "We had amassed a number of these small specialty practices and they functioned somewhat independently, but it wasn't always the most efficient way for them to operate," Wakulchik says. "We wanted to improve how we provide care to families. This project would allow us to bring them all together in one location, streamline the check-in process and improve the patient experience overall."
Reviving a proven model
Inspired by the successful completion of the Kay Jewelers Pavilion project, Akron Children's Hospital returned to the same core design/construction team of Welty Building Company and Hasenstab Architects to realize its vision for the Considine Professional Building expansion. As with that project, the hospital chose to utilize an Integrated Project Delivery (IPD) model, which incentives collaboration throughout the entire design and construction process by linking stakeholder success to the overall success of the construction project, while also incorporating Lean Six Sigma principles to drive down waste and increase efficiency.
"We learned a lot during the Kay Jewelers Pavilion project," says Linda Gentile, the hospitals vice president, construction and support services, "On that project, we had national partners who had experience in integrated project delivery, as well as local partners. The goal for us and our local partners to learn to do this on our going forward, and that's what we were able to do."
Don Taylor, president of Welty Building Company, notes that the Kay Jewelers Pavilion project served as a benchmark during design and construction of the Considine addition.
"You had to wonder, 'was that a one-time opportunity or could we repeat the success?'" Taylor asks, "Well, we proved it, repeated it, and actually improved on it. There was an effort on this project to take it to the next level, with an approach of continuous improvement and continuous learning. The integrated project delivery process aligns everyone involved, including owners, architects, engineers, and contractors so we were all focused on the same outcome." As a result, the project was completed in 17 months- six weeks ahead of schedule- and under budget at a cost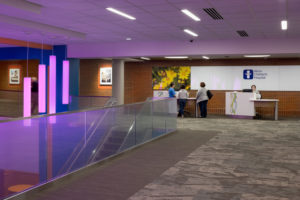 of $76 million, far below an original estimate of $101.3 million, Wakulchik notes. "The team was able to drive down the cost dramatically and yet was able to not only maintain value, but actually incorporate quite a few value-added enhancements, such as an upgraded building automation system, as a result of cost-savings," she says
Driving down costs is important, Taylor says, but adds that it was just one component measured by the team when evaluating the project's success using IPD strategy.
"Cost was one of eight items that we measured," he says. "It's easy to drive costs down but you may end up with something that's lower quality. We were trying to identify which parts of the project had waste and which had value, and then measure those against components such as jobsite safety, energy
efficiency, and staff and family satisfaction." Another goal was to only utilize local talent, he adds, so 100% of labor was directly from the areas served by Akron Children's Hospital.
Disciplined design + construction 
The IPD process meant that all stakeholders were involved throughout the construction process from the very beginning, notes Marge Zezulewicz, senior project architect with Hasenstab Architects. "Throughout the project, we would all regularly meet together in one big room on the second floor of the hospital's Cedar Building just down the street," Zezulewicz says. "There could be 40, 50 or even 60 people together in that room sometimes, representing the owner, all the various trades and all the design disciplines. We'd meet typically two days a week, every other week, as the project came together."
To assist in optimizing the user experience, the team enlisted the help of numerous patients and their families who offered ongoing feedback and ideas on the design, notes Brian Lapolla, facilities architect with Akron Children's Hospital. "We went through a series of design workshops with full-scale cardboard mock ups, which allowed us to think very efficiently about how our spaces were being crafted," Lapolla says. "For example, a lot of these clinics were in autonomous spaces in separate buildings before, but now they would be in a contiguous space together which could allow for shared spaces. We were able to find many efficiencies within the project utilizing those cardboard mockups."
The intensive planning process required a lot of coordination upfront, but ultimately allowed the building to be constructed quickly, Taylor notes. "Adapting to the latest technologies allowed us to accelerate construction and push costs down, while driving quality up," he says, noting widespread use of cloud-based 3D building information modeling throughout the project.
Prefabrication was another major contributor to the project's success says Tom Conti, project superintendent with Welty. "The hospital gave us a building directly across the street that were able to utilize for prefabrication work and it was amazing what the team was able to do in the building," Conti says. "Almost every component of the mechanical systems was prefabbed. We were able to bring in mass sections of piping with fittings already welded on and then set them into place. We literally built corridors, which would normally be constructed using lifts and ladders, and instead put them together in the prefab shop, and then popped them into place onsite."
Greg Komar, project manager with Welty, explains that the team modeled its prefabrication process after automobile assembly lines, creating a consistent, effective production system.
"We prefabbed the entire infrastructure on the building, which included 112 total racks, ranging in size from 12 feet long to 30 linear feet in length," Komar says. "All our ceilings were implemented using a similar system as well, as was the exterior panel system. Our workflow allowed us to close in and complete the entire west façade within 12 days, which is a part of the project that typically take 8 to 10 weeks. It was an efficient system and a safe system as well, assembling components at waist-height as opposed to doing it 14 or 16 feet in the air."
Ease-of-access + flexibility
The resulting design aims to ensure ease-of-access of all building users. Patients and families typically enter the building from the adjoining Bowery Parking Deck, from the main hospital building or Kay Jewelers Pavilion via a raised, glass-encased pedestrian corridor above West Bowery Street or from a drop-off location at the front of the facility, which features a curving masonry and glass curtain wall façade. "We implemented a new process at this with entrance-based check-in," Lapolla says. Families can sign in from their MyChart accounts at self-service kiosks or in person at check- in desks located at common intersections. "You can accomplish 80% of the check-in process before enter clinic. By pinpointing the exact locations where we get the most traffic, we've improved
wayfinding and reduced waiting times."
Clinics are situated on floors two through seven, with a common layout at each level. All waiting rooms are situated along the front of the building, with curved walls of glass overlooking Perkins Square Park. "One of the worst parts of going to a hospital is finding your way around," Zezulewicz says. "It all starts with a mom and dad. If they're anxious about getting here and confused about where they need to go, then all of a sudden the child is having a tense, negative experience. So the design was focused on ease of access. By facing all the waiting rooms toward the park, there's a nice, easy flow that allows families to orient themselves within the building, no matter where they are."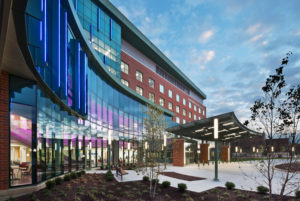 Adopting an overall interior design theme of "Our Neighborhood," waiting areas on each floor are differentiated with their own unique color palette and art choices that "reflect a different aspect of what a neighborhood in Northeast Ohio can be," Zezulewicz explains. For instance, there's a transportation floor incorporating images of the Goodyear Blimp and Soap Box Derby cars, while another floor features a countryside theme with images of farm equipment, livestock, and barns.
Beyond waiting areas on each floor are patient rooms and additional clinical facilities, while staff areas – including a variety of closed offices, collaboration rooms, touchdown locations, and meeting spaces- are arranged along the back of the building with views toward the Canal Park baseball field. To ensure future flexibility, office areas are constructed with demountable partitions, which allow the hospitals to add or subtract offices and open work spaces as needs evolve.
"Utilizing demountable partitions allowed us to really maximize the square footage in this building," Lapolla says. Providing additional flexibility, the building includes 31,250 square feet of shell space to accommodate future growth.
Positive Results
With completion of the project this fall, Akron Children's Hospital is currently coordinating phased move-ins of all departments, which should conclude with the opening of its Vision Center in early 2019. Additionally, a new second floor dining area, called Garden Patch Bistro, will open later this month. Wakulchik says the completed project has exceeded her expectations. "It's amazing what the team was able to accomplish here, completing the project early and 20% below the original cost estimates while delivering such a high-quality facility," she says. "This is a beautiful addition to our campus."