By:
Jennifer Conn
Akron is poised to create public entryway for the Bowery Project
Cleveland.com – July 24, 2018 – Akron , Ohio – Developers are eyeing the finish line in compiling financing for the $40 million Bowery project, which aims to transform a stretch of long-empty buildings in downtown Akron.
Akron City Council is expected to approve bond financing for the project at its meeting on Monday, and the developers told cleveland.com on Tuesday they expect the other financing to be in place by fall.
The development is planned to be ready for occupancy in 2020.
The Bowery Development Group — DeHoff Development Co. and the Welty Building Co. – plans to redevelop the historic 12-story Landmark building and five smaller retail buildings from 164 South Main St. to 184 South Main St.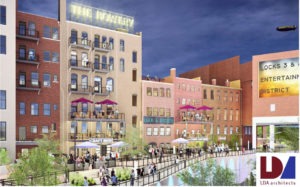 The Bowery project includes apartments on upper floors and stores, restaurants, a microbrewery and a grocery store on the levels below, said Beth Borda, DeHoff's vice president of development.
A recent addition to the plan is an arcade in the C.E. Link building that the city plans to issue $2 million in bonds to fund. The Link building, renamed the Lock 4 Arcade, would be a handicap-accessible public entrance with elevators, said Akron Chief of Staff James Hardy.
"When the music stops, the Lock 4 Arcade is not a good candidate for conventional financing," Hardy said. And without it, people wishing to shop or dine would have to enter through Lock 3 to the south, or walk around the block to Lock 4 and enter off West Bowery Street. Both entryways involve stairs.
Hardy said the arcade also is expected to house micro-retailers, such as pop-up businesses and kiosks. The city would receive income from the tenant leases.
Most of the buildings have been neglected for so many years and major reconstruction is needed. With $5 million in Ohio Historic Preservation Tax Credits,historic elements of the buildings must be preserved, she said.
One question Borda says she's been asked by potential tenants is where people will park. The Cascade Parking Deck with space for 2,000 vehicles is next door and runs under Bowery Street, she said. A few other decks are nearby.
Other nearby amenities include the canal directly behind the development, where the Bowery group plans to have a series of patios. The Towpath Trail also runs directly behind the development.
"There's a lot of activity that already exists here," Borda said. "Akron has a great scale because it's very walkable. This is a long block to be vacant, so once its energized it's going to be a kind of connector. We're looking forward to taking advantage of that."
In addition, more housing is planned in close proximity to the Bowery.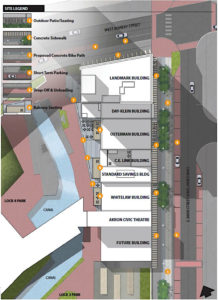 New Jersey developer Tom Rybak plans to redevelop the Law Building across Main Street into more than 100 apartments, and New York-based Capital Realty Group Inc. plans to turn the Mayflower Hotel, just to the south, into senior housing. To the north, Testa Companies is turning the former City Center Hotel into apartments.
"We're all going to supporting each other, which is kind of a unique circumstance," Borda said.
One interesting amenity for residents of the Bowery will be the "Woof Roof," a kind of green roof designed for dogs on the Lock 4 Arcade building. Out back, the developers are adding a dog washing station as well.