4th Annual Greater Summit Business Conference & Expo
The Black Pages Ohio and the Summit Magazine partnered with the City of Akron and County of Summit for the 4th Annual Greater Summit Business Conference & Expo. The event was hosted at the University of Akron's Quaker Station on April 25, 2018. Small businesses and corporations from across the state of Ohio networked for business and procurement opportunities. The EXPO focused on collaboration between businesses, helping small businesses succeed, economic development in Summit County and diversity and inclusion with work-shops and a Corporate Matchmaker tradeshow.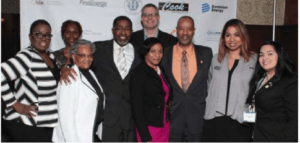 Forty plus corporations and small businesses sponsored this event. Many of our sponsors have attended the Expo year after year. Stephen Francis, from the City of Columbus states they come back to the conference "because of the important of the City of Akron and the Summit County region in terms of development and economic development and the opportunities it presents for small and minority businesses." ShaRonda Sammons, owner of Sammons Safety Services has attended the Expo since its inception. In three of the four years she had been a vendor at the Expo. ShaRonda encourages everyone to attend no matter their type of business. She believes, "There is someone here that needs your services, or you can network with others because you may need their services." ShaRonda also "loves this event because it highlights Summit County and small businesses that are sometimes overlooked". Ginger Cunningham of Ginger Cunningham and Associates attended the Expo for the first time last year and was impressed with the event. This year Ginger was able to network with businesses that could utilize her services in marketing their business and more.
Hilscher-Clarke, Daniel Ratcliff, Christian Healthcare Ministries and Metis Construction Services were a few of the businesses that attended the Expo for the first time this year. Each of them was asked why they attended this event. Hilscher-Clarke state they wanted the opportunity to build a network with any other business that had any type of electrical need and they were able to connect with organizations that they may do business with in the future. Daniel Radcliff, a local artist, came to the Expo to gain exposure as an artist. Daniel was able to network with businesses for potential work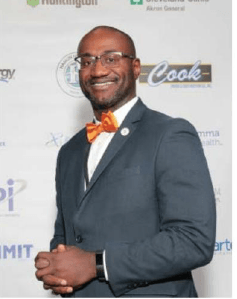 and he found a business that can help him with his marketing. Christian Healthcare Ministries attended to connect and network with local businesses and to share how they may be able to help small businesses meet their healthcare needs. Elizabeth from Metis Construction Services manned their booth and shared who they are and what they do, while Julie Brandle, the President and founder attended the work-shops.
The workshops were: Building sustainable partnerships: A Small Business and Corporate Workshop moderated by Joseph Loboda, First Energy. Key Drivers for Small Business an Overview of financing, Bonding, Certification and Health Care moderated by Andre Bryan, President of APB & Associates and Doing Business with the State of Ohio provided info on becoming a certified Minority Business (MBE) was moderated by Allen McConnell. The luncheon was sponsored by Cleveland Clinic Akron General, Christian Health Ministries and Huntington Bank this year. The luncheon was hosted by the University of Akron. University of Akron President, Matt Wilson and Jolene Lane, the Chief Diversity Officer welcomed everyone to the luncheon and spoke about the concept of promoting diversity, collaboration and connecting businesses with one another. Mayor Horrigan conveyed the City of Akron's goal of helping small businesses grow. Executive Ilene Shapiro spoke on the creation of a Diversity, Inclusion Advisory Board. This board will examine employment practices, community engagement, community contracting practices and more. Andre Lessears, Director, Diversity & Inclusion Cleveland Clinic, Rick Rebadow, Executive Vice President of the Greater Akron Chamber and Ryan McGraw, Vice President of Administration, Christian Healthcare Ministries all expressed similar sentiments about collaboration in the community, building and growing the community and serving the community.
From all of us at Black Pages Ohio and the Summit Magazine, we thank all of you for your continued support in our continuing mission of creating partnerships and promoting diversity. We hope that you will join us for our upcoming 5th Annual Greater Summit Business Conference & Expo in 2019.
In Review
The 4th Annual Greater Summit Business Co

nference & Expo was Welty's first time participating and first time being a part of the planning committee. The relationships made with the planning committee only shows the power of a few people coming together to make a huge difference. Welty Building Company benefited from being a part of the trade show and matchmaker. We were able to connect with The Haven of Rest and Sammons Safety Services to team up and do some amazing things internally with our staff. I highly recommend small businesses, female businesses, large businesses, and minority businesses (all businesses) take the opportunity to be a part of this event; you never know who you'll meet that will open a door to the next level. We will definitely be a part of the 5th Annual Greater Summit Business Conference & Expo next year!
Erica Berg
Diversity Coordinator
Article from- "The Summit Magazine"