2018 Commercial Development Awards
Commercial development projects continue to change Northeast Ohio's landscape
Smart Business – April 27, 2018 – Cleveland, Ohio –
The real estate boom across Northeast Ohio hasn't slowed down this past year. You can't help but notice the activity at Battery Park near Gordon Square Arts District, the Fat Head's Brewery project in Middleburg Heights, commercial development along the Detroit Shoreway or in the heart of downtown with the redevelopment at Quicken Loans Arena.
This continued renaissance has numerous participants — land and property owners, corporations, development companies, architects — and each has its own focus: corporate headquarters, mixed-use developments, renovation of dilapidated property or restoration of historic buildings.
On May 16, Smart Business will present an engaging panel discussion that peels back the curtain on how many of these projects — and others — are financed.
We will also recognize more than a dozen projects that are making a significant impact on the neighborhoods they inhabit — as well as the people and organizations involved with bringing them to life.
Zelma George Shelter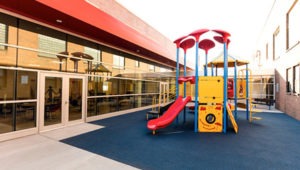 COMPANY: The Salvation Army
Beau Hill, executive director, The Salvation Army Harbor Light Complex
Seeing growing poverty rates and increased demand for services, including a need for new shelter facilities in downtown Cleveland, The Salvation Army acquired land adjacent to Harbor Light for a new family shelter. With the dedication and hard work of Perspectus Architecture and Welty Building Co., The Salvation Army opened the Zelma George Emergency Family Shelter at the end of 2016.
During the first year of operation, ZGS provided shelter and wraparound social services to 244 families (766 individuals) of Greater Cleveland. Working closely with law enforcement, the Cleveland Rape Crisis Center, the Renee Jones Empowerment Center and the Collaboration to End Human Trafficking, 21 adult individuals were served in the Human Trafficking Suite at ZGS in 2017.
The ZGS occupies two floors within The Salvation Army's Harbor Light Complex, headed by Executive Director Beau Hill. The Harbor Light Complex provides many social services to the community, including community corrections, electronic monitoring and medically supervised drug detoxification programs, along with the family shelter.
The ZGS plays a critical role in serving the community's homeless population. The Salvation Army is the largest provider of shelter services within the Cuyahoga County Continuum of Care and currently provides 40 to 50 percent of the available beds for homeless families.
By SBN Staff