Don Taylor's team is built to last at Welty Building Co. –  highlight in Smart Business on November 27, 2017: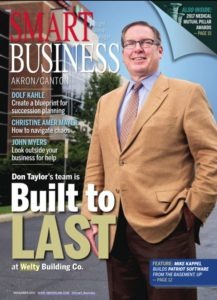 Welty Building Co. has constructed or managed the construction for some of the region's most recognizable project: the Akron Children's Hospital Kay Jewelers Pavilion, Akron Art Museum, Goodyear Tire & Rubber Co. world headquarters and Tom Benson Hall of Fame Stadium, to name a few.
For Welty President and CEO Don Taylor, building his team is just as important as constructing a building – and he's co-opted a novel approach to do so.
The entire article can be found here.